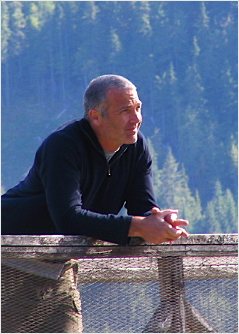 Peter Krass
Peter Krass is an accomplished and prolific author, editor, and researcher. He has written and edited 11 books, including his most recent, Ignorance, Confidence and Filthy Rich Friends: The Business Adventures of Mark Twain, which was a BookSense pick for March 2007, featured on NPR's Marketplace program, and reviewed in The Wall Street Journal, among many other periodicals.
Krass's first biography was Carnegie, published in 2002, and has sold over 20,000 copies. It was selected as one of the best biography/business books for 2002; featured on C-Span's Booknotes; and was also reviewed widely, in Barron's, The Economist, The Washington Times, The Pittsburgh Post-Gazette, The Tribune-Review, The Dallas Morning News, The London Times, and The Scotsman, among many other newspapers and magazines. Barron's cited the book as "the definitive Andrew Carnegie." Krass's other biography is Blood & Whiskey: The Life and Times of Jack Daniel, the first ever biography of the flamboyant boy moonshiner turned whiskey baron in the tumultuous post-Civil War South. Blood & Whiskey was featured on NPR's Marketplace, BBC Radio, C-Span's BookTV, and was the subject of an Associated Press article reprinted widely across the United States.
In addition to his biography work, Krass was the creator of a highly successful series of books on business wisdom, which have sold almost 100,000 copies in English alone: The Book of Business Wisdom, The Book of Leadership Wisdom, The Book of Investing Wisdom, The Book of Entrepreneurs' Wisdom, The Book of Management Wisdom, and The Little Book of Business Wisdom. These books were endorsed by such industry leaders as Warren Bennis, the CEOs of NBC and Merrill Lynch, and renowned investor Roy Neuberger, among others. Many of the books have been translated into Chinese, Japanese, Korean, Russian, German, Dutch, and Portuguese.
Krass has appeared on many national and local television and radio programs. He also served as script consultant for a BBC Scotland television program on Andrew Carnegie that aired in the winter of 2002-2003.
As a lecturer, Krass is in high demand from both civic and business organizations. He has spoken at numerous libraries, museums, and historical societies; was a featured speaker for the venerable Conference Board; and delivered a keynote address at the Friends of the Library USA event at the 2003 American Library Association conference in Toronto. A graduate of Lafayette College (BA Economics) and Seton Hall University (MA English Literature), Krass lives with his family in Hanover, New Hampshire.
Feel free to contact me about any of the books, the research, the lectures, or whatever is on your mind.