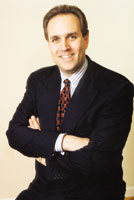 Paul Goldner
Author, speaker and entrepreneur, Paul Goldner is the author of Red Hot Cold Call Selling: Prospecting Techniques That Pay Off!. Shortly after its release, Red Hot Cold Call Selling was selected by Executive Book Summaries as one of the best business publications of 1995. Goldner is also the author of Red Hot Customers: How to Get Them, How to Keep Them. Red Hot Customers has been endorsed by Selling Power magazine and every major professional selling organization.
A sought after speaker, trainer and consultant, Goldner presents sales and motivational programs that have energized audiences throughout the world. In addition to providing his programs to corporations, he has appeared on CNBC's "How to Succeed in Business," has been quoted in The Wall Street Journal, and has presented at the national conference of the American Society for Training and Development. Goldner is also a frequent speaker at the American Management Association and is a member of both the National Speakers Association and Toastmasters International.
Today, Goldner is the Chairman and President of his second entrepreneurial venture. He recently sold his first company, which he founded and led to become a multinational corporation with an excess of $100 million in sales. He brings his experience as a successful entrepreneur and sales professional to all of his programs.
Goldner received a Masters degree in Business Administration from the William E. Simon Graduate School of Management and currently serves on its Executive Advisory Board.