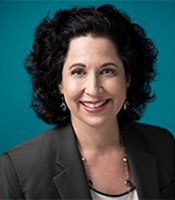 Martha Heller
Before she established her career in executive search, Martha was Founder and Managing Director of IDG's CIO Executive Council, a professional organization for CIOs.
During her seven-year tenure at CIO magazine (IDG), Martha developed leadership programs for CIOs and directed the CIO Best Practice Exchange, a members-only network of IT leaders from top-tier organizations. Martha wrote a weekly column on IT leadership and led a series of executive events on IT staffing, career development, and leadership. Before CIO, Martha was an editor at Rutgers University Press.
As a highly sought after keynote speaker on leadership and the CIO role, Martha has appeared at the Research Board, CIO Perspectives, MIT, Harvard University, SIMposium, the National Retail Federation, Cisco, Sprint, and ServiceNow. Each year, Martha serves on the judging panel for the TBM Awards and the CIO 100 Awards.