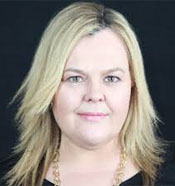 Kieran Flanagan
For over twenty years, Kieran Flanagan has been a transformational leader in the creative industries. A behavioral researcher & strategist, she is an author, educator, corporate coach and is the Chief Creative Officer at The Impossible Institute™, a Think Tank founded to make what's not… possible!
In addition to succeeding as one of the only female leaders in the world of MadMen, Kieran was also one of the youngest Creative Directors to lead an award-winning advertising agency.
In an impressive career, she has lead multi-national accounts across multi-disciplinary departments and businesses working at McCann, Smart, Kindred and VCD (a team she helped found and build into the "Agency of the Year" within her first three years in the industry).