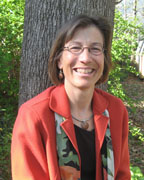 Kathi Ann Brown
Kathi Ann Brown, founder of Milestones Historical Consultants, has been a consultant to industry, government and association clients since 1986. Her professional work includes books, museum exhibits, corporate museums, oral history programs, anniversary and milestone master plans, historical research, speechwriting, video scriptwriting, and other initiatives designed to help clients preserve, present or publish their past.
A specialist in corporate history, Brown is co-author of the business biography The Spirit to Serve: Marriott's Way with Marriott International, Inc. Chairman and CEO J. W. "Bill" Marriott, Jr. (HarperCollins, 1997). She is also the author of Diversity by Design: Celebrating 75 Years of Howard Needles Tammen & Bergendoff, 1914-1989 (1989); Critical Connection: The Motorola Service Station Story (1992); and Bringing Information to People: Celebrating the Wireless Decade (1993), the last commissioned by the Cellular Telecommunications Industry Association (CTIA). In 1993, Brown published Profiting from the Past: A Practical Guide to Publishing Your Organization's History. She also supplies historical background on aspects of American business history to journalists via PRNewswire's ProfNet.
Brown's historical exhibit work includes Shell Oil's corporate museum in Houston (TX), a 70th anniversary exhibit for Marriott International (Washington, D.C.), a web exhibit for CTIA, as well as roles in several exhibits for the Smithsonian and Library of Congress. She is co-curator of Women Come to the Front: Journalists, Photographers and Broadcasters During World War II, a Library of Congress exhibit highlighting eight American female correspondents who covered the war's impact on the homefront and the front lines. In conjunction with the LC exhibit, Brown chaired a panel on women in the military during WWII at the national "Berkshires" women's history conference in Chapel Hill (NC) in May 1996.
A graduate of Bryn Mawr College (1980) and George Mason University (1988), Brown was awarded the first Outstanding Alumnus Award by the Dept. of History of GMU in 1997 in recognition of her professional achievements. She was born in Hanover, Pennsylvania in 1958.