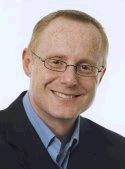 James O'Loughlin
James O'Loughlin is Investment Manager and Head of Global Equity Strategy for the Cooperative
Insurance society, one of the largest insurance companies in the UK with over $36 billion in assets.
Jim is married to Sarah and has two children; Harry and Niamh. He lives on the Wirral Peninsula in England, a (good)
stone's throw from his place of birth – this being perhaps the greatest similarity between he and Warren Buffett. Jim is working on
relegating this to just one of the similarities.