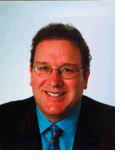 James Allen
James Allen is CEO of eVolution Global Partners, a global venture
capital firm founded by Kleiner Perkins Caufield & Byers, Bain & Company, and the Texas pacific Group.
Evolution helps corporate partners build new, independent e-commerce businesses.
Allen spends most of his time working with CEOs to spin off businesses that require the capital, business-building
skills, and separate equity and compensation structures necessary to compete against Internet start-ups.
Previously he was a Director of Bain & Company, where he led global strategy projects with technology,
consumer products, and media firms in more than twenty countries; co-led Bain's strategy practice; served on the company's
board; and helped establish its private equity and venture capital practice in Europe. Prior to entering the business world, Allen
worked in the U.S. government, focusing on U.S.-Soviet trade security issues.