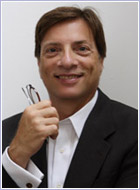 Harvey Robbins
Harvey Robbins, president of Robbins & Robbins, Inc. located in Minnetonka, Minnesota, has been a practicing business psychologist since 1974. His broad experience provides his clients with training in leadership skills, management skills, team leadership skills, high performance team building as well as consulting in leadership effectiveness, teams effectiveness, change management and executive coaching.
Robbins has provided international consulting services to numerous corporations and federal and state agencies including the U.S. Treasury ATF, American Express, AT&T, Allied Signal, FMC, General Dynamics, Honeywell, 3M, IRS, International Multifoods, Johnson & Johnson, Southern Company, Target Stores, Toro, US West, Winnebago, Upsher-Smith Laboratories, U.S. Secret Service, and U.S. Customs. He has also presented at many national and international conferences.
Prior to 1982, Robbins worked as a personnel research psychologist for the psychological services branch of the intergovernmental personnel programs division of the U.S. Civil Service Commission (CIA), manager of personnel development and research for Burlington Northern, Inc., and corporate manager of organization development for Honeywell.
Harvey, a native of New York City, received his doctorate in clinical psychology from Texas A&M. He is the author of seven books – TURF WARS: Moving from Competition to Collaboration, HOW TO SPEAK AND LISTEN EFFECTIVELY; and WHY TEAMS DON'T WORK, co-authored with newspaper business columnist Michael Finley. This treatise on teams received the 1995 Financial Times / Booz Allen & Hamilton Global Business Book Award. He also released a book titled WHY CHANGE DOESN'T WORK in late 1996. Another work with Mike Finley, TRANSCOMPETITION, was published as a lead book with McGraw-Hill's new Business Week Books division in 1998. In October, 2000, Harvey published a completely rewritten update of his award winning teams book, now named THE NEW WHY TEAMS DON'T WORK and a newly released book entitled THE ACCIDENTAL LEADER. He is currently working on a book tentatively titled The Art of Dangerous Coaching.