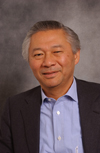 George Yip
Professor Yip holds B.A. and M.A. degrees in economics from Cambridge University; and an MBA and doctorate from Harvard Business School. A native of Asia, he is a dual citizen of the United Kingdom and of the United States.
Before joining RSM, Professor Yip was Vice President and Director of Research & Innovation at Capgemini Consulting, an 8 billion euro global company active in consulting, technology, and outsourcing, where he managed the research and innovation process to develop thought-leadership for the company.
During this time he was on leave of absence as Professor of Strategic and International Management at London Business School. He was previously the Chair of Marketing and Strategy at Cambridge University, and has held faculty positions at Harvard Business School and UCLA, and visiting positions at China-Europe International Business School, Georgetown University, Stanford Business School, and Templeton College-Oxford.
Professor Yip has twelve years of full-time business experience in international business, marketing, and strategy, working in the United States and the United Kingdom. This experience includes product management with Unilever; account management with Lintas, one of the world's largest advertising agencies; and senior management of Price Waterhouse's strategic management consulting services in the Eastern United States.