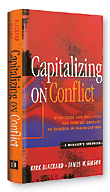 Fred K. Blackard
Fred K. (Kirk) Blackard was employed by Shell Oil company from 1968 until 1998. In his early assignments he represented Shell in negotiations, grievances, a
rbitration cases, and other matters involving the company's relationship with labor unions.
From 1975 until 1989 he held several assignments in Shell's mining division, including president, successively, of three subsidiary companies. He subsequently was assigned as
General Manager Industrial Relations for Shell Oil, where his responsibilities included initial work leading to Shell Resolve, Shell Oil's internal conflict management system.
From 1996 to 1998 Blackard was assigned to London as Shell Oil liaison to Royal Dutch Shell. He currently is a management consultant, arbitrator, and mediator.
Blackard is a member of the State Bar of Texas, the Industrial Relations Research Association, the American Arbitration Association, the Texas Association of Mediators,
and the Association for Conflict Resolution. His work has been published in the Dispute Resolution Journal, and his book Managing Change in a
Unionized Workplace was published in April 2000. He holds a B.A. degree in economics from Texas A&M University and a J.D. degree from the University of Texas School of Law.