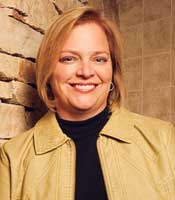 Dee Ann Turner
Dee Ann Turner has worked for Chick-fil-A for more than 30 years and currently serves as Vice President, Corporate Talent. Over the years, she has played an intricate role in growing Chick-fil-A's unique and highly regarded culture while overseeing recruitment, selection, and retention of corporate staff and the recruitment and selection of Chick-fil-A Franchisees.
Dee Ann's insightful knowledge and applicable tools to building an incredible and influential company culture are revealed in her upcoming book, It's My Pleasure: The Impact of Extraordinary Talent and A Compelling Culture.
Dee Ann attended Cincinnati Christian University in Cincinnati, Ohio, majoring in Journalism and Christian Education. She later completed her education at Clayton State University in Atlanta with a degree in Management. She received further certifications at Goizueta School of Business at Emory University, Darden School of Business at the University of Virginia, Kenan-Flagler Business School at UNC Chapel Hill, and she completed the prestigious Advanced Management Program at Harvard Business School.