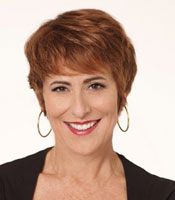 Cathy Salit
Cathy Salit is the CEO of Performance of a Lifetime and author of PERFORMANCE BREAKTHROUGH: A Radical Approach to Success at Work (Hachette Books). Cathy has presented hundreds of speeches and interactive keynotes all over the world to corporate and community audiences alike, delivered in her unique style. Read on to learn more about how you can invite Cathy to inspire performance breakthroughs at your organization!
Whether you're navigating your way on a new team, expanding your leadership role, or just trying to get heard in a meeting, you're facing the kind of workplace challenge we all run into sooner or later: you need a new performance. And the good news, Cathy says, is that even though you might not have been onstage since you played a tree in third grade, you — and all humans — have an innate ability to perform, pretend, and improvise. Tapping into this ability is key to learning and growing in new, exciting and profound ways.
In this engaging, entertaining and interactive presentation, Cathy shares the revolutionary approach that has transformed the work of executives and teams from Fortune 500 companies all over the world with its unusual blending of theater, improvisation, and the new science of performative psychology.