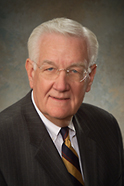 C William Pollard
Bill Pollard is Chairman of the Board of The ServiceMaster Company. He joined the Company in 1977 and has served not once but twice as its Chief Executive Officer.  His first term as CEO was for ten years from 1983 to 1993 and his second term was from October 1999 to February of this year. 
ServiceMaster provides services to both the commercial and the consumer markets, specializing in management services for the healthcare and education markets, and home services for the residential market under such well-known brands as Terminix, TruGreen, American Residential Services, Merry Maids and American Home Shield.  The Company serves more than 12 million customers in the United States and 44 foreign countries, with customer level revenue of $7 billion. 
 ServiceMaster is listed on the New York Stock Exchange and has been recognized by Fortune magazine as the #1 service company among the Fortune 500 and has been included at the top of its list of most admired outsourcing companies.  The Wall Street Journal listed it as a "star of the future" and the Financial Times recently noted that it was one of the most respected companies in the world.  During the past twenty-five years, the Company has achieved market leadership in each of the markets it serves and has provided an average annual total return to its shareholders of 20%.
Bill is a graduate of Wheaton College, Wheaton, Illinois, and he received a J.D. from Northwestern University School of Law.   From 1963 to 1972 he was engaged in the practice of law, specializing in corporate finance and tax matters, and from 1972 to 1977 he served on the faculty and as a Vice President of Wheaton College.
He is the author of a best selling book, The Soul of the Firm and also has written for or contributed to other books and magazines including The Leader of the Future, Leading People, "The Quest for the Entrepreneurial Spirit," and "The Leader Who Serves."
In addition to his work at ServiceMaster, he serves as a director of two other public companies: Herman Miller, Inc. and UnumProvident Corporation.  He also serves as a director or trustee of a number of educational, religious and not-for-profit organizations, including Wheaton College, The Drucker Foundation and Chairman of the Executive Committee of the Billy Graham Evangelistic Association and he is actively involved in teaching and speaking on subjects relating to management, ethics and integrating one's faith with their work.
A native of Chicago, Bill and his wife, Judy, have been married for over 40 years.  They have four adult children and twelve grandchildren.