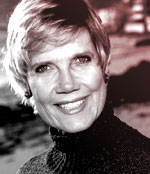 Anne Cooper Ready
Anne Cooper Ready has been giving confidence in communication since 1981. Her company, Ready for Media, coaches corporate clients in making appearances in person and through the media. She has also taught the subject to UCLA's Anderson Graduate School of Business and to both national and international audiences from Los Angeles to D.C., Munich to Hong Kong.
Beginning her career as a writer for the Chicago Tribune, Ad Age, and The Los Angeles Times, Ready was also an associate producer for Regis Philbin.
In recent years, she has been interviewed for the Japanese-language newspaper Yomiuri, Paris-based Le Figaro, The Times of London, the Montreal Gazette, and the German-language magazine Markt & Technik. She regularly speaks to groups about issues involving corporate and crisis communications, leadership, business etiquette, international protocol, plus media as a communications tool.
Ready for Media's worldwide client list includes executives of such companies as Alcatel, Apple Computer, Clairol, Disney, Dolby, Georgia Pacific, Hewlett Packard, Imagine Entertainment, JPL, LSI Logic, M&M Mars, Merrill Lynch, Microsoft, National Semiconductor, NOKIA, Northrop Grumman, PacifiCare, People Magazine, Paramount, Pepsico, Philips Electronics, Procter & Gamble, and Sempra.